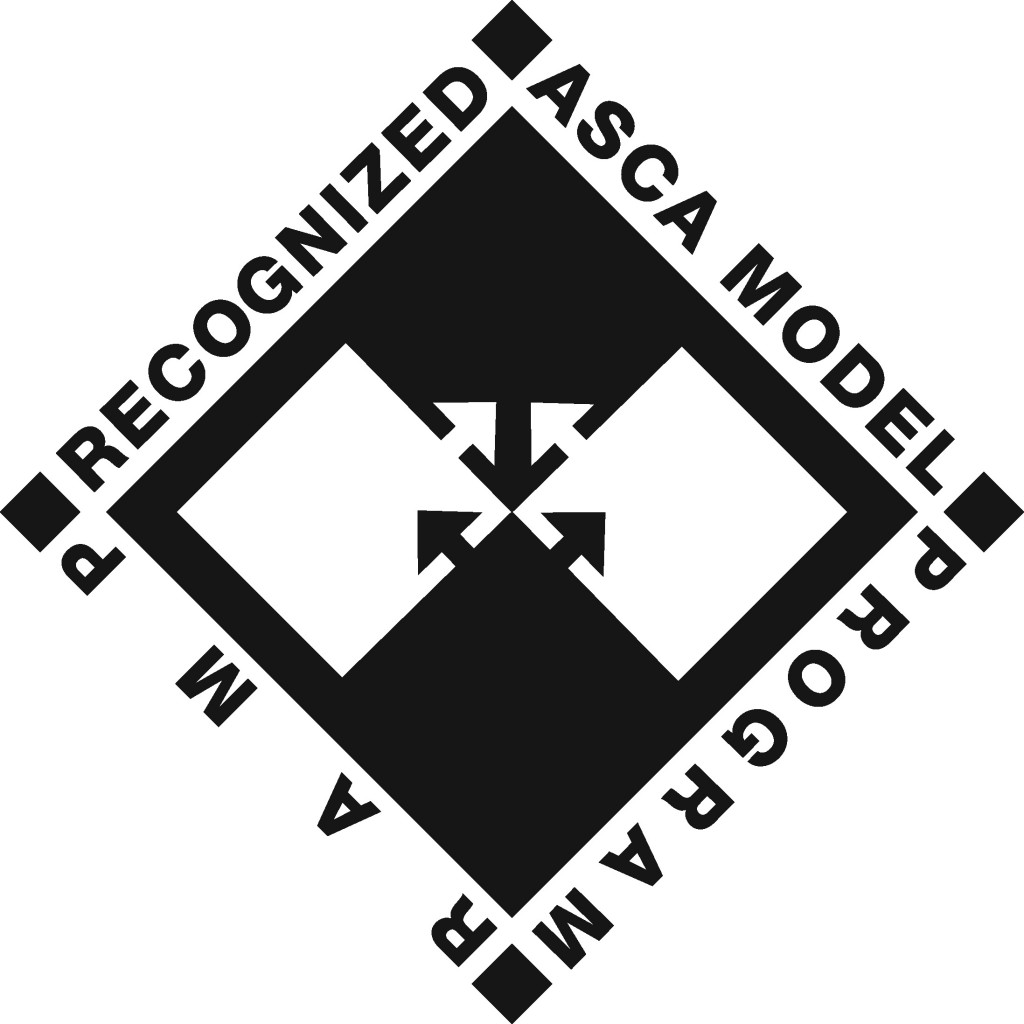 Our goal for this website is to provide a valuable and relevant resource for Centennial High School students, parents, teachers and community members.
______________________________________________________________________
______________________________________________________________________
CHS COLLEGE WEEK 2016: October 24th – 29th
During the week of October 24-29, Centennial will be hosting our 6th Annual College Week. The goal of our College Week is to further promote the college going culture in our school by offering students opportunities to learn more about all aspects of post-secondary education. Over the course of the week we will be having several breakout sessions, activities and events which are all related to students and parents planning for continued education beyond high school. To preview of some of week's activities are available here: College Week 2016 Info
Here is what you need to know about this year's College Week:
How do students participate?
Review the events offered and click the workshop/activity you are interested in attending (you may select up to 3).
Some events will have a limited number of seats due to space; students should sign up early so they are able to RSVP their spot before all seats are filled.
Complete the registration by providing your information and submit
Registration will close at 3:30 the day before the event.
On the morning of the event, students will receive a pass to be excused from class to attend the event

Attendance will be taken for all workshops and events during the school day.

Click the workshop/activity you are selecting (you may select up to 3) **Seats for some events are limited**
Provide your student information at the bottom and submit
On the morning of your event, you will receive a pass to be excused from class to attend the event
Students will be responsible for any missed classwork or assignments you might miss.
We strongly encourage students and parents to take advantage of these great workshops and information sessions. We want students to gain exposure to new possibilities, gain knowledge which will help them identify the best post-secondary fit for them and to be actively engaged in thinking about their future.
Myth: College Week is not only for seniors.
Fact: College Week is for students in ALL grades. Some events will be more geared for students in a particular grade, but nearly all activities and events are open to students/parents in all grades.
Myth: College Week is only for students who are planning to attend a 4 year college/university.
Fact: College Week is designed to reach ALL students by exposing them to a variety of post-secondary possibilities and engaging them to be actively thinking about their future.
Myth: College week is only for students.
Fact: Several College Week events are open to both students and parents.
Can parents participate?
Yes! Parents are welcome and encouraged to come attend any of the breakout sessions during the week.
Events open to parents are notated with an asterisk(*)
Parents register by using the same link or QR code as the students.
ANNOUNCEMENT FOR Tuesday, October 25th:
Centennial High School will host a two-part series on the impact of society's achievement culture on our school-aged children. The first event will feature the film, Race to Nowhere, on Tuesday, October 25, 2016 at 6:30 pm in the school auditorium. Tickets for the free screening can be obtained by registering here.
The companion film, Beyond Measure, will be aired in the spring of 2017. Co-sponsored by the PTSA and the LTY Foundation, both films will be followed by a discussion and working session on how to effect positive change and best prepare our students to become healthy, bright, contributing and leading citizens in the 21st century.  We encourage you to attend these important events.
UPCOMING EVENT: Centennial Counseling & PTSA present: SAT/ACT Diagnostic Test
ACT or SAT? Do you know which test you should take?  Register for the ACT/SAT combo practice test which will inform you on which test you will score higher on and is the best fit for you!
Saturday, October 29 – SAT/ACT Diagnostic Test 
Centennial HS, in the Cafeteria
9am-1:30pm, $5 at the door
Event Code: M227580
For additional information on registering for MOCK tests & Diagnostic SAT/ACT tests sponsored by Applerouth, please click here!! 
CHS Junior & Seniors: ARE YOU RECEIVING OUR TEXT MESSAGE BLASTS?
Join REMIND 101 to receive texts and/or emails with information on upcoming college representative visits at CHS, scholarship updates, and other important information from the counseling office! Students AND parents are encouraged to register — click on the link below for directions.
Don't be left out of the loop for your class announcements — join today!!
Directions for Remind 101 Class of 2017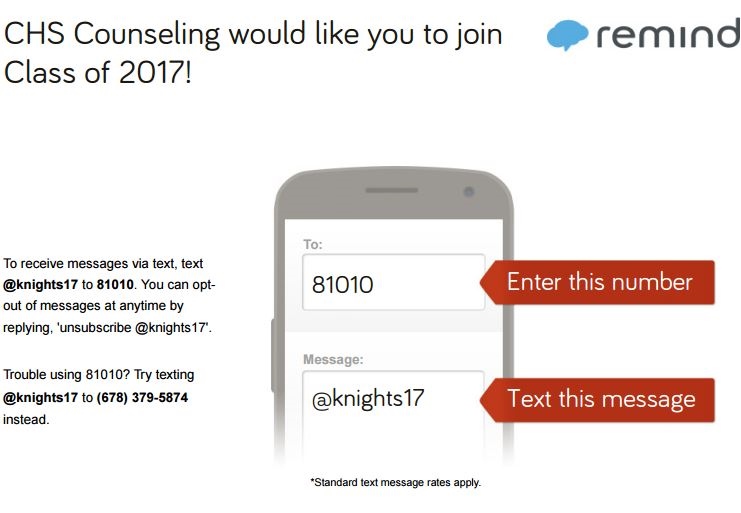 Directions for Remind 101 Class of 2018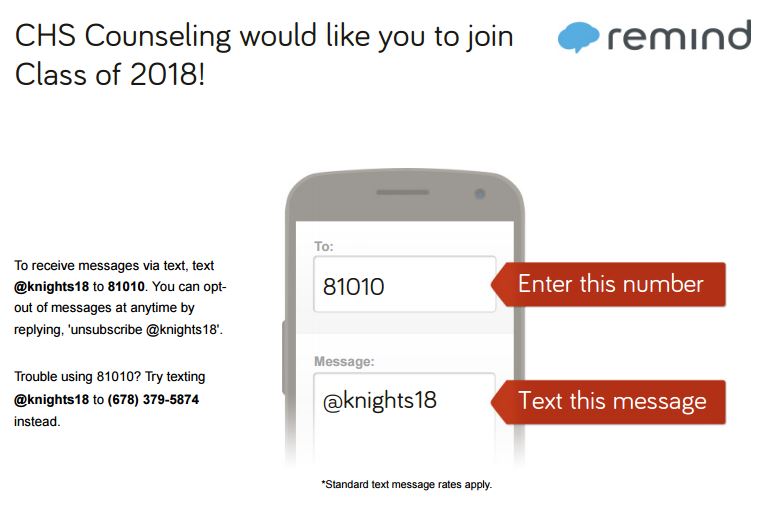 CHS School Counseling Program Receives National Recognition for a Third Time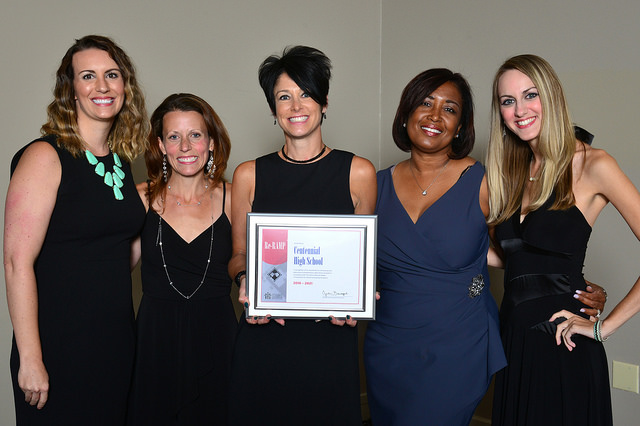 In July 2016, the American School Counselor Association (ASCA) once again recognized Centennial's school counseling program at their national conference in New Orleans. Centennial's School Counseling Program was presented with the Recognized ASCA Model Program (RAMP) award and was noted as being one of a very few schools in the country to have earned this distinction 3 times (2010, 2013, 2016). The RAMP designation is an honor bestowed upon school counseling programs who demonstrate an exemplary commitment to making a positive impact on student success through the services of a data-driven comprehensive counseling program. Centennial was the first school in Fulton County to earn this award and just the fourth high school in the state of Georgia. This recognition is authorized by ASCA and is valid through 2021.