Mock SAT & ACT Tests at Centennial HS
In partnership with Applerouth and PTSA – tests are $5 and proceeds go to Centennial Counseling Dept. and PTSA
Full-length proctored mock tests
Students can determine how they would score on the SAT or ACT exam and learn what to expect under test-like conditions
Students will receive

a report with comprehensive personal analysis of their performance on the test.

These practice tests are highly recommended for sophomores and juniors.
Register online below with 'event code' for the session you choose
Printable flyer: Centennial Mock Tests 2017-18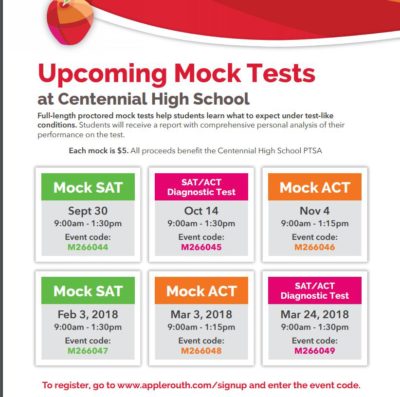 Fulton County/Princeton Review SAT & ACT Prep Program

: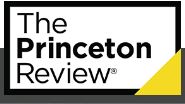 The Princeton Review has partnered with the Fulton County Board of Education and Centennial High School to provide SAT and ACT test preparation to Juniors and Seniors. Centennial High School students receive this preparation on CHS campus after-school & receive an 80% off discount!
See the Princeton Review Centennial HS Fall 2017-18 Flyer for Course Offerings/Dates for 2017-2018
To ENROLL:  REGISTER ONLINE at www.princetonreview.com/FultonCounty
Select ACT OR SAT from the top and then enter your ZIP CODE
Use promo code "FCSATL" at checkout
Classes cost $ 125 per student until the first 25 seats of each allotted class is filled.

The tuition covers 18 hours of classroom instruction, three diagnostic tests, 24/7 access to online student resources, and all course materials.
If you receive free or reduced lunch, you could be qualify for a scholarship to take a Princeton Review test prep course at no cost, courtesy the The Fulton County Board of Education. If you are eligible , choose your test prep course and date and full out this form —-> Princeton Review Scholarship 
Princeton Review will email you before the course begins to confirm!S
SAT Prep Elective Course at Centennial High School
SAT Prep Course during the school day!
Class is taught by a Centennial teacher who has received specialized training for SAT test prep instruction and is open to students in grades 10, 11, or 12.
The course is for 1 Semester (18 weeks) and is a period in their schedule.

Counts as an graduation elective credit.  Students will receive a grade and credit for their class.

The class is FREE of charge for students, but seats are limited.
To register for this course, students should select this course as their top elective choice when registering for classes.
Planning to attend a Jr. College/2 year college?
 The COMPASS test is now the Accuplacer!  Find Test Prep information HERE —> http://counselingcenter.gsu.edu/pc/testing-services/compass/accuplacer-preparation/
FREE SAT & ACT Evaluation Test
Omega Learning Center provides a comprehensive test prep solution. Students begin by taking the online SAT and/or ACT practice test at Omega in our proctored, simulated environment before it counts! Your evaluation test provides vital information that shapes your customized program and exponentially increases your student's academic growth.
Cost: Free!
When: Every Saturday
Where: Johns Creek Omega Learning Center, 3005 Old Alabama Rd., Ste 170
Call center for scheduling details and to redeem Centennial offer: 770-751-0181
Visit Website: Omegalearning.com
Khan Academy
(personalized and FREE SAT and PSAT test prep and practice tests) www.khanacademy.com
Kaplan Cram Sessions
Kaplan is offering last-minute test prep for the upcoming ACT and SAT exams. Whether you've been prepping for a while and just want an extra edge, or you haven't cracked open a test prep book yet, this intensive, online 90-minute review for your upcoming SAT or ACT will review all of the important tools you'll need on Test Day.
Cost: $19.99
When: Varying dates and times to choose from (typically approx. 1 week prior to testing date)
Where: Online
How to Register: call 1-800-527-8378 or visit kaptest.com/cram
Kaplan Mobile SAT and ACT Flashcards
Sneak in prep on-the-go, including most tested topics and useful test-taking strategies with Kaplan's Digital Flashcards. 500+ flashcards will allow you to track your score, skips cards & return to them later, randomize card order, sort by subject, remove cards that you know and prep on a laptop & mobile devices.
Cost: FREE!
To download visit: kaptest.com/freeflash
Online Test Prep at Your Fingertips!
Click TEST PREP to access the INFOTRAC test prep database. Using this site you can take practice tests for a wide variety of tests including the ACT, SAT, SAT Subject Tests, PSAT and all AP exams. The password is knights.
Recommended Websites for SAT / ACT Information and Test-Taking Strategies